FRIENDSHIP
FRIENDSHIP THROUGH THE DOLLS
Let me introduce Aioi Elementary School in my neighboring town.
They started a cultural exchange program with schools in North 
Carolina.
Misuzu Horiuchi
Miss Kagawa came back to Kagawa prefecture in February, 1998 for the first time in 71 years for renovation. Miss Kagawa is a Japanese-style doll which was sent to North Carolina, U.S. in 1927 to promote friendship among children. Fortunately, Miss Kagawa survived the war and remained on display at the North Carolina State Museum of National Sciences.
In 1927, Sidney Gulick, a congregationalist missionary in Japan, with the help of 2.7 million American students, sent 12,739 dolls as goodwill ambassadors to schools in Japan. Among the 108 dolls which were given to schools in Kagawa prefecture, only one doll named Anama Julie has survived and is rested in a temple. In return, Japanese schools sent 58 dolls to the States.
The Students of Aioi Elementary School (相生小学校), in Okawa-gun, Kagawa prefecture, received a letter last September from Ms. Darlene Guerry, a member of North Carolina Friendship Doll Exchange Association, and learned that another doll, named Wendy would be presented to their school. Ms. Guerry says in her letter "Wendy comes to Japan loaded down with our love and friendship. She comes as a new ambassador for a new generation; following in the footsteps of the Doll Ambassadors of 1927, Miss Kagawa and Anama Julie exchanged between the United States and Japan.". The students were excited and one of the students, a sixth grader Natsumi Miyanishi, wrote a letter to Whitaker Elementary School in Winston-Salem, NC, which Ms. Guerry's two great-nephews attend.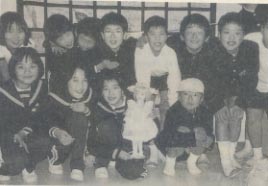 "Dear friends of Whitaker Elementary School,
Hello, everyone! I heard the North Carolina Doll Exchange Association will send us a doll named Wendy. Our school was given an American doll that we call " a blue-eyed doll" in 1927.
However, due to the miserable war we unfortunately lost the doll. We must try not to have a repeat of
this sad incident and, at the same time, we would like to make friends with you through the doll. We are planning a welcome party for Wendy on November 11. We look forward to meeting her and her getting used to our school. We sixth graders will graduate next March. During the six months we would like to make a lot of nice memories with you and Wendy. I hope 'Aoime no Ningyo'(a blue eyed doll) will be a good chance to promote our relationship between our countries." These two schools are tied as sisters.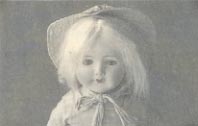 Wendy arrived in November. Aioi Elementary students had a big welcome for Wendy with many guests they invited for the reception. Some of the guests were the graduates who were at school 71 years ago. Wendy is so cute with flirty blue eyes and blonde hair. She has her pretty clothes for Easter, Christmas, school and festivals. Even a Japanese kimono for festivals!
Aioi Elementary School has established November 11th as Wendy's Day. On this day they will continue learning about international cultural exchange and peace. The students are enjoying sending e-mail messages, exploring the internet and exchanging letters, pictures and calligraphy. Some of their exchanges are below.
Back to Miss Kagawa, she is now enjoying her stay at home. Being refurbished, she is busy visiting many places and meeting people at the parties and exhibitions. She will be back at her second home in North Carolina in February this year. 












・Why do you wear a school uniform? What   do you want to do with Wendy? Do you   have to eat rice? (Dylan Owen) ・Because it's a school regulation. I want  to read books to Wendy. We don't have    to, but I have to eat rice to grow big.
(Risa Kishino) ・We will take good care of her, you can count on us. I would like to know a lot about your country and make good friends with you. (Mari Okano) ・I'm surprised that she has her passport and a doll, Kirsten, to play with. (Kento Matsuura) ・I was impressed with the quilt that you   made and sent us. It was wonderful. Even we fifth graders can't make it that well. (Kengo Hayashi) (The second graders of Whitaker Elementary school made a quilt of 64 pieces for Aioi School.)