January 2023

Happy New Year!
It is the year of Rabbit this year.

英語で学ぶイケバナ教室
鈴木 榮子
芸術学博士/ 小原流いけばな一級家元教授
小原流いけばな教授会特別会員


Let's Enjoy Ikebana Flower Arranging
class offered by Eiko Suzuki 
Ph.D.of Aesthetics/ Master Instructor of Ohara school of Ikebana

The class is led in English and Japanese, depending on the students.

Contac : eiko@hbs.ne.jp






近況写真や記事はこちらに
CLICK Here for photos!



 "Ikebana taught in English" Hiroshima classes
"Ikebana taught in English" Osaka classes

eiko@hbs.ne.jp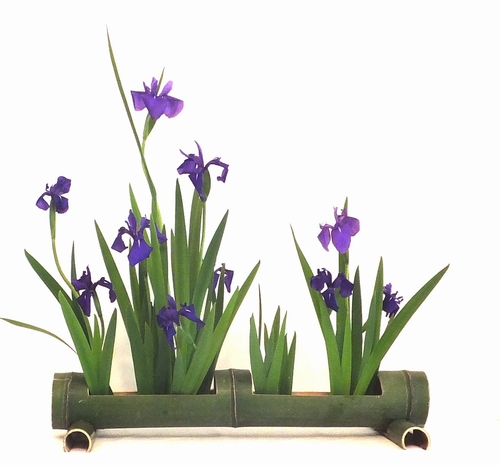 This flower is called 'Rabbit-ear iris' , which is suited for the year of Rabbit.
Wishing you all the best in 2023!


★常設講座 広島クラス
月3回木曜日 13時〜20時
お好きな時間にお好きなだけいらしてください 

Hiroshima Class
13:00-20:00 Three Thursdays a month
Please come at your convenient time, and stay as long as you like.


お問い合わせは以下のアドレスにメイルください
For further information, please ask Suzuki at
eiko@hbsnejp







NHK文化センタ―広島教室

★常設講座「英語で学ぶイケバナ」
月1回 第2日曜日
13:00~15:00
 
広島市中区三川町2-10 愛媛ビル3F
お問い合わせ 082-242-1151







★常設講座 NHK文化センタ―梅田教室

「英語で学ぶイケバナ」
月1回 第1火日曜日
18:00~20:00
 
大阪市北区角田町8-1 梅田阪急ビルオフィスタワー17F
お問い合わせ 06-6367-0880


NHK Culture center Osaka class
「Ikebana lessons taught in English」
Once a month  The first Tuesday evening
6:00~8:00pm

Umeda Hankyu building Office tower 17F
8-1 Kakuda-cho Kitaku, Osaka

Next building to the Osaka station







★常設講座「英語で学ぶイケバナ」大阪クラス
毎月第1水曜  リーガロイヤルホテル大阪
10:00~12:00

詳細はお問い合わせください。
リーガロイヤルホテル大阪 06-6448-1121 


'Ikebana Taught in English' Osaka Class
First Wednesday of each month at Rihga Royal Hotel Osaka
10-12am