<December 2023>
<Greetings >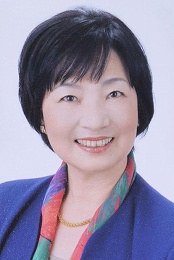 Dear Friends
Welcome to the 'Flowers for Your Life' homepage and thank you for dropping in at this site. This is coming to you from Hiroshima, Japan.
My name is Eiko Suzuki, owner of this homepage. I have been studying Ikebana, art of Japanese flower arranging, for more than half a century.  During those years, I have come in contact with many people with a variety of cultural backgrounds. I worked for an airline company and flew all over the world in the late 1960s.  I lived in North America on and off for seven years mostly in the 1970's. I am now holding Ikebana classes in Hiroshima and Osaka for both Japanese and foreign students. Thus, I have experienced many cross-cultural environments. Such experience has naturally led me to think about what the characteristics of the Japanese culture are.
People in the world have been enjoying flowers at home. In Japan, however, arranging plants has gone through a unique development in which I got interested to the extent that I went back to university in the 1990's and started a research on Ikebana. The more I studied, the greater my interest grew. My continued study finally resulted in a Ph.D. degree in aesthetic 10 years later. My Ph.D. dissertation turned out to be the first such dissertation in Japan dealing with Ikebana as the main subject. In my papers which were published as my first book in 2011, I discussed Ikebana as an important element of the Japanese culture, and thus my current interest covers the overall culture of Japan.
Here in this site, I have included many photos from the classes in Hiroshima and Osaka. I hope you would enjoy them.
Sincerely
Eiko Suzuki
Ph.D. of Aesthetic
Master Instructor of Ikebana Ohara School

Recent photos are here in the blog
Please click here




Ikebana classes are available as shown below

.

Contact: eiko@hbs.ne.jp



*<When> three Thursdays: anytime between 13:30 and 20 :00
Basically the classes are held on the 1st, 2nd and 3rd Thursdays of the month. However, please check the exact class dates since the schedule is sometimes changed.

The first class of the month starts at 13:00 and a presentation for that the month is given. ( Free of charge for the students)

Lessons are given totally in English if you want.
<

Where>

On the 2nd fl. of the Florist Kobata building (12-16 Nobori-machi Naka-ku, Hiroshima/ 082-221-3515)




*Lesson fee:

5000 yen for one month (3 lessons)

2000 yen each lesson if paid lesson by lesson



Photos from the exhibition are seen here!


<Hiroshima Sunday Class: once a month>

* The second Sunday from 1 to 3 pm every month.
*At NHK Hiroshima Culture Center: 2-10 Mikawa-cho, Nakaku Hiroshima

*for further information: please send e-mail Eiko at eiko@hbs.ne.jp

<Osaka Wednesday Class: once a month>

*Rihga Royal Hotel Osaka Class
<When> First Wednesday of every month 10-12
<Where>Rehga Roal Hotel Osaka: 5-3-68 Nakanoshima, Kita-ku, Osaka Tel. 06-6448-0903 English


Lessons are given in English


*For further information: please send me e-mail at eiko@hbs.ne.jp



<Osaka Tuesday Evening Class: once a month>

*NHK Osaka Culture Center Class
<When> First Tuesday of every month 18-20
<Where>NHK Culture Center Osaka classes: 8-1 Kakuta cho, Kita-ku, Osaka

*For further information: please send me e-mail at eiko@hbs.ne.jp




Eiko Suzuki
Ph.D. of Aesthetics
Master Instructor of Ikebana Ohara School
 If you have any questions, please contact me at

page end